Following a series of workshop auditions from April 2016 to January 2017, eight young dancers from Egypt, France, Spain and Morocco participated in this training programme for professional dancers.
The dancer Emma Riba came to join and supplement the team as a substitute dancer in October 2017.
---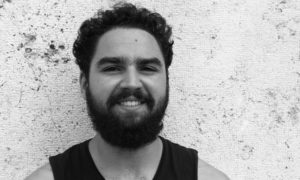 Born in 1991, in Cairo, Egypt, Ahmed Shamel Azmy became interested in dancing at a very young age, practicing Hip Hop at home, using YouTube and other media to improve his skills. By the age of 21, he was accepted into the Cairo Contemporary Dance Center, where he had the opportunity to work with various choreographers such as Christian Ubl, Arno Schuitmarker and Libertad Pozo. Ahmed is also a member of Swaggers Crew with experience in street dance and Krump.
Throughout the SHAPERS project, Ahmed was intrigued by the concept of movement and how to become a stronger mover rather than a stronger dancer. He uses practices such as 'animal flow' as inspiration along with a variety of other physical practices to explore his body and capabilities, a concept he wishes to popularize in Egypt's dance community.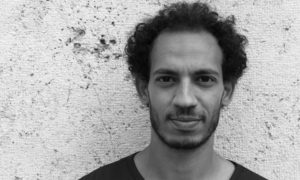 Shady Abdelrahman is a young artist, actor, dancer, pantomime artist, and clown. Since 2007 he has acted in many theatrical performances, short films, and television shows. He participated in the 2015-2016 studio ZAT actor preparation workshop with Shady Khalaf and Ahmed Kamal.
With a dance background in 'popping', Shady's relationship with contemporary dance began in Karima Mansour's workshop in 2011, before joining the Cairo Contemporary Dance Center's Professional training program (2012-2015). During his studies, he was selected to attend the Henny Jurriens scholarship program in Amsterdam. In addition to working and touring with many choreographers and companies, Shady is working on his own projects as a director and choreographer.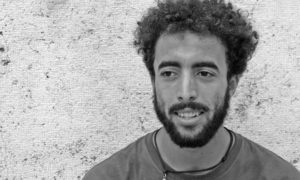 A dancer and circus artist, specialized in Chinese pole, Mourad Koula was trained at Shems'y National Circus School in Salé, Morocco. He has worked with many directors and choreographers: Sylvie Guillermin, Guillaume Bertrand, Juha Marsalo, Thierry Poquet, Jawad Essounani, Anne Le Batard, Jean Antoine Bigot, and Samuel Tétreault.
His solo Shkoun ana, has been shown many times in Morocco and France. Mourad has performed in: Karacena Festival in Salé (2012 & 2014), Sacred World Music Festival in Fès (2013 & 2014), Fatw'art Festival in Casablanca (2013, 2014 & 2015), Nassim el Raqs in Alexandria (2015), Street art and circus Festival of Agadir (2015), Chalon dans la rue in France (2015), Mes de danza festival in Seville (in 2016), Crolles circus festival in France (2016), and the dance festival On marche in Marrakech (2017). He is currently creating new performances such as Error 404 with the Wajdins cie and Youness Essafy.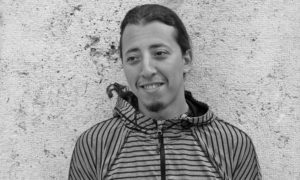 A circus artist and dancer, Ayoub Kerkal began training in the renowned Shems'y National Circus School in Salé, Morocco, in 2011. Since 2012, he returned to this first passion, contemporary dance, working with choreographers such as Mic Guillaumes, Thomas Huert, and the company Ex Nihilo.
In 2013, he became a member of the parkour company Accroche-toi, as a dancer and circus artist. Ayoub has participated in festivals such as the Biennale of Circus Arts in Karacena (2012 & 2015), as well as multiple dance festivals: On Marche in Morocco, Nassim el Raqs in Egypt, and Zvrk Festival in Bosnia Herzegovina.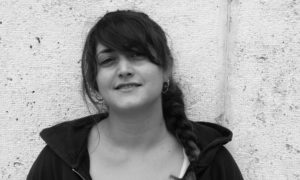 Lucia Bocanegra was born in Seville in 1997. She started dancing at the Endanza space in Seville in 2000. Before entering the Professional Dance Conservatory, she also took classes at the Performing Arts Center of Seville. Lucia chose to specialize in contemporary dance in 2015, and was selected by the CAD (Andalusian Dance Center) to train. In addition, she has participated in the creation of various short pieces, such as Seenpro (2015), Soulviewer, the conservatory's 2015 end of the year piece, and the trio Nudas (2016). Lucia also performed the solo Gnosis, for the CAD 2015 tour and Salafuera within the cultural collaboration of the 2016 Noche en Blanco in Seville. From 2016 to 2018, she joined the team of the Euro-Mediterranean Project SHAPERS with the company Ex Nihilo.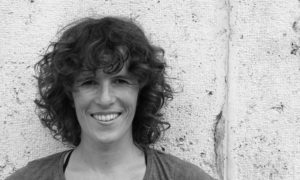 Elvira Balboa finished her professional dance studies in 2017 at the Royal Contemporary Dance School Reina Sofia. She is currently a part of the Euro-Mediterranean project SHAPERS, directed by the French Company Ex Nihilo. She is continuing her graduate studies in dance at the Theater Institute of Barcelona.
Elvi is a dancer and choreographer in the company Land Lab Project and CIA la Coet. In 2015 she participated in the project Let's Dance directed by Trinidad Castillo, a student of Pina Bausch. From 2012 to 2016 she created and organized the project Danzamatique (micro, macro, perfodanza) in Granada.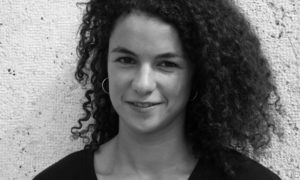 Natacha Kierbel was born in Paris in 1995. She trained at the Conservatoire Régional de Paris. In addition, she studied Literature and Theatre at Sorbonne Nouvelle University and trained at the International Acting School of Paris. In 2014, Natacha joined the Geneva Junior Ballet, where she danced the repertoire from Aleksander Ekman, Hofesh Shechter, Roy Assaf, Barak Marshall, Sharon Eyal, Adonis Foniadakis, and Kaori Ito among others. Since graduating in 2016, Natacha has worked with the company Ex Nihilo for the Euro-Mediterranean project in public space SHAPERS, choreographed by Anne Le Batard and toured in Morocco, Egypt, Spain, and Bosnia. She has also worked with the stage director Robert Carsen at the Opera of Lausanne and with the company Karine Saporta.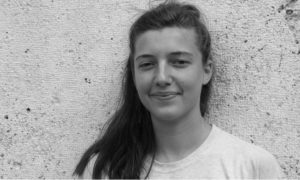 Aurore Allo studied contemporary dance in Paris and Belgium. She has worked for different projects in France and abroad as a dancer and choreographer. She believes in art in public space as a way to communicate with audiences in a common and publicly used area.
Aurore is interested in working with dance and art as a tool for social mediation, specifically with children and disabled people.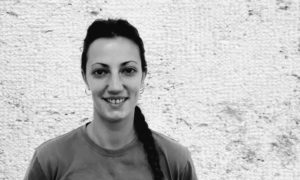 Born in Andorra in 1990, Emma Riba studied contemporary dance in different schools in Barcelona, finishing her studies in Salzburg at the SEAD academy where she learned from dancers and choreographers such as Edivaldo Ernesto, Rootlessroots, Milan Tomasik, and others. Since 2016, she has worked with choreographers like Willi Dorner, Zsuzsa Rozsavolgyi, Helena Pellisé, and has collaborated as a substitute in the Euro-Mediterranean Project SHAPERS with the Ex Nihilo company. She is currently a member of the Spanish company Cielo Ras0. In 2017, she created the dance collective US BACK IN TOWN together with Laura Alcalà. They work not only in the creation field but also to promote dance and creation as tools for social mediation. They have worked with amateurs in schools as well as with disabled people.